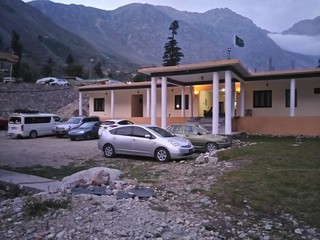 Most Recent Review is first
Reviewed by
akha
, on 2017-06-06
Reason for Visit:
Saiful Maluk Lake Expedition
Review:
This is an excellent hotel to stay in. We look for quite a number of them to find something for a reasonable rate which is clean also and could not find anything. Then we hit upon this one.



Pro: Relatively new construction, single floor, spread out building, family like atmosphere, next to river, nice room



Cons: A bit far from main bazar, you will need car for breakfast, dinner if you decide to eat in main bazaar, bathroom had dead bugs but otherwise good



They also have tents available if someone really really into outdoor camping.


Reply to this review
Useful links
Sorry, no useful links
Similar Businesses in Naran
FABSSGO Hotel Naran Naran
Pinehills Hotel Naran naran
Most recent firstThere are no comments related to this business
Leave a Reply
---