East Cantt Police Station (Sharki)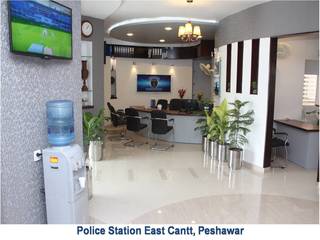 Most Recent Review is first
Reviewed by
khan
, on 2017-03-19
Reason for Visit:
I was sent their in lockup for no crime
Review:
Do not be fooled by the fact that it is Model Police Station and situation in heart of the city, next to Police Headquarters and CM Secretariats and fitted with dozens of camera. This is a typical Police Station where everything can go wrong and against you even though it is Model Police Station.



I was sent their in lockup for no crime what so ever. My crime was, I was being assailed and my rivals were more influential than me. Police called me by trick where they arrested me when rivals were not even there, their medical report was incomplete and the section of laws they invoked were harsh and against the law. Muharrar at East Cantt Police Station also changed my report timing to give rivals an unfair edge.



The investigation was a joke, if I may call it a joke. It never happened. This Police station has no ethics what so ever. We later complained to Police higher up but no action was taken against the concerned staff who was involved in the wrong doings so be care full visiting this police station. Hawalat is in the basement and DSP office is in also located in the same Thana, if you want to visit him.



Do no visit Police Station if your rivals is influential or includes a police officer. KP Police is not that professional yet to take action against their own, you will pretty much be stranded. Keep that in mind, we had worse experience with this police station, not just the SHO but Muharrar, DSP and the rest of the staff.
Reply to this review
Useful links
Sorry, no useful links
Similar Businesses in Peshawar

Sui Northern Gas Pipeline Limited (SNGPL) Head Quarters Peshawar peshawar

Nadra Office Peshawar Saddar peshawar

NADRA Office Hayatabad Peshawar (Regional Office) peshawar

PESCO (WAPDA) Hayatabad, Peshawar Office peshawar

Peshawar High Court peshawar
Most recent firstThere are no comments related to this business
Leave a Reply
---